Hot drinks manufacturer Barry Callebaut Beverages UK has reported a rise in sales of its Van Houten range and an increase in its UK market share, with the brand name giving the products leverage in a tougher, post-Brexit environment.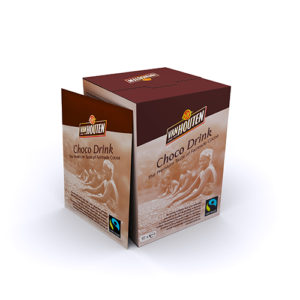 Currently sitting at the pinnacle of the company's product range, the Van Houten selection is developing a loyal following from the UK.
With 26 variants of chocolate products, including fairtrade, low sugar, white chocolate and cocoa contents of 13% to 50%, Van Houten provides a chocolate drink with a conscience, thanks to its fairtrade credentials and Barry Callebaut's commitment to sustainability.
Head of sales for Barry Callebaut Beverages in the UK, Paula Bentley believes the wide variety that the brand is able to offer is what has drawn the current influx of new customers.
She said: "Van Houten offers a full selection to suit all tastes, with different depths of flavour and the required mix of low sugar and fairtrade products that tick every box. Its pedigree spans almost 200 years and the heritage of the brand is what underlies all products."
"Now completely UTZ Cocoa certified, Van Houten is fast becoming acknowledged as a favourite, authentic brand among UK customers who appreciate its position in the mix produced by Barry Callebaut."
Barry Callebaut is an established advocate of sustainability, working with smallholder farms in West and Central Africa, supporting farmer training in Good Agricultural Practices (GAP).
Last year, the group launched its campaign, 'Forever Chocolate', with a goal to make sustainable chocolate the norm. A year on, it has announced that it is on target to reach its objectives which include achieving the eradication of child labour from the supply chain; lifting more than 500,000 cocoa farmers out of poverty; being carbon and forest positive and using 100 per cent sustainable products in all of the company's ingredients.