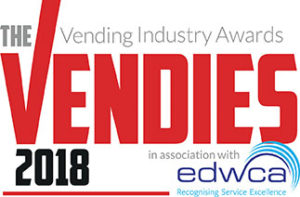 Tickets are priced at £145pp (discounts available for EDWCA members) and include a drinks reception, three course meal with wine, award presentations for outstanding performance, an after dinner casino and even more Vegas filled fun and networking. A limited number of hotel discounts are also available to guests of The Vendies and/or the EDWCA Business Day on a first come, first served basis. Bookings must be made in advance via The Vendies website.
The Vendies 2018 has already secured strong sponsor backing, with SB Software, Lavazza, Siemens Financial Services, Abbey Chart and the EDWCA all putting their name to the event. "Further sponsorship opportunities are available to companies looking to promote their brands, products and services at the event of the year", says publishing and event manager Jenny Thompson.
Entries are now open with new and revised categories, aimed at operators and suppliers in the vending and water industries and as previous winners will testify, a Vendies win 'is a real stamp of endorsement.'
Express Vending agrees; at last year's event it scooped a staggering FOUR awards – Operator of the Year, Service Engineer of the Year, the Customer Service Award and Marketing Campaign of the Year. Talking to Vending International at the time, digital marketing manager Matt Sayers said: "Receiving such industry recognition is testament to the efforts we take to consistently innovate and deliver exceptional service levels. Express and our people strive for excellence and these awards are a tremendous marker for our ongoing performance."
Coffetek, meanwhile, was awarded Online Initiative of the Year in 2017 for its 'Customer Web'; speaking exclusively to Vending International, sales director Ian Johnston said: "Coffetek was delighted to receive the award for online initiative of the year. In the past 12 months we have invested significantly in online tools for our customers, the customer web provides a wealth of information 24/7 and is dynamically linked to our central ERP system – watch this space for more developments."
In the water categories the Best Quality Service Award went to Maestro Pressure Coolers with the company's David Hilton agreeing on the importance of the event: "I was really chuffed to receive this award. It's nice to get some recognition for your efforts. The evening was a great success with a lovely atmosphere in an excellent venue the hosts were very professional and it was a great chance to meet up with like-minded companies and employees."
Designed to reward the people, products and services that make the vending and water industries a success, this year's awards programme offers some exciting opportunities for manufacturers and operators alike.
The Awards will be judged by an expert panel, comprising leading names from across the water and vending industry – with some help from the industry, of course!
Judges will assess each of the entries according to strict criteria, before carefully selecting up to five finalists in each category for the industry to vote on.
The judges' scores will account for 75% of the outcome and the industry vote 25%.Written entries must be no more than 1,000 words. Supporting information (images, videos etc) should be uploaded via the online entry form.
For more information and to enter go to www.thevendies.co.uk
In partnership with the EDWCA Business Day
Registration is now open for the EDWCA Business Day Trade Show, which is taking place in conjunction with The Vendies at the Forest of Arden Hotel on Tuesday 02 October 2018.
The exhibitor line-up to date includes: AA First, Calomax, H20 Direct, Kleena Coola, MTN Products Ltd and Botelleros CMA.
The Business Day starts at 9.00am with the Association Annual General Meeting followed by an exciting Speakers Programmes with subjects such as GDPR and Plastics…what is the solution? After lunch delegates will be invited to browse around the Trade show from 1pm to 4.30pm and join in the speakers discussion forums.
The Business Day is free-to-attend for EDWCA members. The fee for non-members is £25 and includes lunch and refreshments.
For more information and to register visit www.thevendies.co.uk