One of the United Kingdom's main recyclers and Nestlé Waters UK have introduced a brand new partnership to additional construct the round economic system for plastics in the United Kingdom.
Biffa can be supporting Nestlé Waters UK to succeed in its dedication of constructing each and every Buxton bottle from 100% recycled PET (recycled polyethylene terephthalate or rPET), through amassing recyclable PET bottles and reprocessing them right here in the United Kingdom into rPET.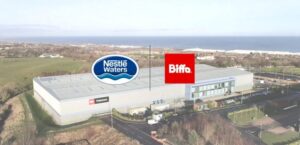 The partnership will permit Nestlé Waters UK to noticeably cut back the quantity of virgin plastic in circulate and lead the shift to the usage of top quality food-grade recycled PET in the United Kingdom, which as of late is sourced from Europe. Plastic is a light-weight, sturdy and occasional energy-intensity packaging subject material that after recycled correctly can play a sustainable function in fashionable existence, serving to to form a waste-free, decrease carbon long term. Together, Nestlé Waters and Biffa will in the end be offering a extra sustainable selection for customers of herbal supply waters and inspire the United Kingdom to recycle extra.
The partnership, which is being introduced throughout the seventeenth 12 months of WRAP's Recycle Week, is additional demonstration of Nestlé Waters' dedication to assist customers do extra to recycle their plastics and make sure PET plastic is recovered, recycled and reused.
Biffa has set a goal to quadruple its plastic recycling through 2030, and the rPET equipped to Nestlé Waters will come from the corporate's new £27.5m state of the art plastic recycling facility in Seaham, County Durham. The plant has the capability to procedure the identical of one.3bn plastic bottles every 12 months and can provide recycled subject material to Nestlé Waters' Buxton manufacturing unit from 2021.
Michel Beneventi, managing director for Nestlé Waters UK, mentioned: "This is a vastly important step forwards achieve our dedication of constructing our Buxton vary from 100% rPET. By running in combination, sharing experience throughout our firms to advance PET recycling for circularity, I imagine we will be a drive for excellent, serving to to create certain, long-lasting affect and alter for the planet.
"Having get right of entry to to a neighborhood rPET provide reduces the carbon footprint of manufacturing, sourcing and transporting our packaging from out of doors the United Kingdom and demonstrates the price that plastic beverages bottles have when they're recycled.
"Nestlé Waters has formidable commitments to sustainability, with a pledge for all its manufacturers to be carbon impartial through 2025. This collaboration with Biffa is a large step in opposition to serving to us succeed in that and creating a round device for plastics a fact.
"We are very proud of our collaboration and what we will can achieve by working together."
Chris Hanlon, industrial supervisor, Biffa Polymers, mentioned: "At Biffa, a key pillar of our sustainability strategy is to help build a circular economy in the UK, part of which is to help our customers develop sustainable packaging that can fit into the closed-loop recycling system that we are working to develop. The collaboration with Nestlé Waters UK is a great example of this strategy in action, using recycled plastic to manufacture plastic bottles for resale. It demonstrates that when used correctly, plastic can have a sustainable role in modern life and we're very much looking forward to working with Nestlé Waters UK and helping it to achieve its recycling goals."
Helen Bird, strategic engagementmanager at WRAP, mentioned: "We are very pleased to see two of our UK Plastics Pact members embracing the spirit of collaboration on which the Pact is founded. It is only by working together, across the supply chain, that we can reduce our reliance on virgin plastics and bring an end to plastic pollution. Using recycled plastic in the manufacture of new plastic products and packaging is the whole point of recycling, and announcements like this help give confidence to the UK recycling industry to invest in new capacity, so that we can keep even more plastic in use and out ofthe environment."