Abbeychart team of workers, companions and buddies took phase in an Inflatable 5K charity fundraiser for Just a Drop.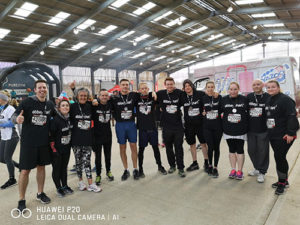 The 14-strong group tackled hindrances reminiscent of The Plummet, Ripple Runner and Leap of Faith on the a laugh and excessive inflatable attack route.
"It was an excellent team effort and a lot of fun," mentioned Mark Taylor, managing director Abbeychart. "I want to thank Andrew Shirley for setting up the group and for everybody who made donations for his or her very beneficiant beef up.
"We are just £100 short of reaching the £1600 fundraising goal we set for the event and so any late donations will be very gratefully received."
https://www.justgiving.com/fundraising/abbeychart-fundraising
 Sunday's tournament was once Abbeychart's first fundraiser for Just a Drop since committing to supporting the charity previous this 12 months.  All cash raised will pass against serving to supply a blank and protected water provide for the 293 kids in Kisole Primary School in rural Kenya.