The Automatic Vending Association met with Alex Hattersley, a coverage consultant in power and shipping at HM Treasury and Silas Gedner, an consultant for the coverage staff at DEFRA, to talk about paper cups and plastic in merchandising this week.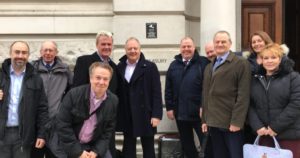 The AVA Environment Committee took the chance to exhibit the stairs already taken in assortment and recycling inside of merchandising circles. A variety of cup assortment and recycling actions have already going down, with Brodericks and Excel Vending offering examples.
Representing the AVA Environment Committee, Adrian Pratt, mentioned he believed HM Treasury and DEFRA now recognised the complexity of the merchandising marketplace and the way it differed from the prime boulevard.
Vending corporations had been requested to sign up for the 'War On Waste' even in spite of added force and prices as "there will be a bigger cost if we don't actively manage it," Adrian warned.
The AVA Environmental Committee took the chance to focus on the variations between the merchandising trade and the prime boulevard. This led to a couple readability for each The Treasury and DEFRA in figuring out the disproportionate have an effect on a tax or 'latte levy' can have at the trade.
The committee has been invited to go back to The Treasury once more for the newsletter of session paperwork connected to DEFRA's waste technique.
AVA leader govt David Llewellyn mentioned: "It was a very positive meeting with contributions from all sides".