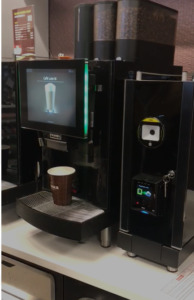 Nayax is offering a cashless fee resolution for world oil And gasoline corporate, MOL Group to lend a hand the corporate be offering a brand new client adventure for customers at their espresso machines, leisure rooms, and automotive washes whilst bettering the enjoy with unattended bills.
An built-in oil and gasoline corporate headquartered in Budapest, Hungary, MOL Group operates in client products and services in 9 international locations throughout Central and Eastern Europe, with a complete of one,941 carrier stations.
"Nayax's VPOS Touch device provides a great customer experience, enjoyed by our service station staff, as well as customers and we're excited to have the opportunity to further develop it, to tailor it to our needs," mentioned István Mag, head of virtual manufacturing unit at MOL Group.
"It provides us more transparency in sales data on our unattended devices and clarity on their status, opening new horizons in maintenance and error reporting of these devices in the long run."
"As a global entity, with sales and support offices around the world, Nayax provides MOL Group with a unique opportunity, ensuring that their cross-border needs will be met. Their commitment to their customers in developing loyalty and engagement programmes synchs well with our own vision of improving the consumer experience and our customers' businesses. Working closely with MOL Group, our technical teams have initiated exciting product opportunities for Nayax that we are looking forward to implementing," mentioned Yair Nechmad, leader government, Nayax.