The Automatic Vending Association and the EDWCA kicked off the festive season with their annual Christmas Luncheon at Merchant Taylors' Hall in London on December 7. A complete of 230 visitors loved the day of networking and Christmas cheer.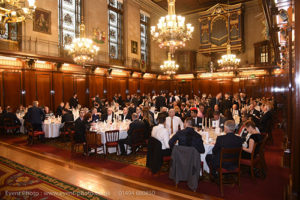 The day started with visitors greeted via Paul Smith, the Toastmaster, and welcomed with some complimentary beverages. Then after being known as to lunch they have been handled to a three-course lunch whilst being entertained via award-winning Twistina who created some Christmas hats with balloons.
In between classes there was once an public sale and of venture to boost cash for 2 worthy reasons; Mind and Change People. Mind is a psychological well being charity that is helping 1000's of folks annually as one in 4 adults enjoy a psychological well being factor each and every 12 months and want reinforce.  Change People is operating to lend a hand folks with finding out disabilities input the arena of labor in the United Kingdom and alter the stigma about disabilities. There have been 3 public sale prizes which integrated a vacation to Turkey and 6 raffle prizes together with a Fortnum and Mason Champagne and Chocolate Box and a £100 John Lewis voucher.  Overall the development raised over £3,000.
After dessert, there was once a wonder within the type of an organist and singer who performed a couple of Christmas tunes and later most of the visitors persevered the celebration at a close-by wine bar, The Forge, with a complimentary glass of bubbly and a beverages voucher.
Jonathan Hart, Chief Executive of the AVA stated: "We would like to thank everyone who came and made our 7th Christmas Luncheon such a brilliant event.  We couldn't host an event like this without your continued support.  A final thank you to our sponsors; Lavazza Coffee UK Ltd, Huhtamaki UK Ltd, Scobie Vending Services, Evoca UK Ltd, Nupik-Flo UK Ltd, Siemens Financial Services Ltd, Nestle Professional and Hilton Birmingham Metropole.  We hope you all have a very Merry Christmas and a prosperous New Year and we look forward to continuing to work for you in 2018 and beyond!"
James Anderton, Chairman of the EDWCA commented: "As another year glides smoothly away, what a great finish to 2017 gathered together celebrating in the wonderful Merchant Taylors hall with friends and colleagues. The success of these events is always down to a huge effort from the AVA and EDWCA team, pulling all the components together and curate a fabulous day of networking and celebration as well as a poignant reminder of the importance of our own charitable actions. In the end however it is the membership that make these events so memorable and I wish to thank everyone for the continued participation in all the events that are so meticulously laid on. Merry Christmas and I hope that 2018 is a prosperous one for all."