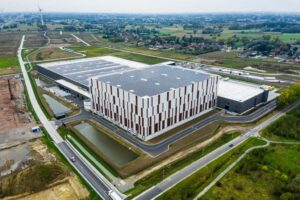 The Barry Callebaut Group, cocoa and chocolate producer, has opened 'The Barry Callebaut Chocolate Box', its new international distribution centre in Lokeren, Belgium.
The Chocolate Box is described as the arena's greatest chocolate warehouse and would be the logistical hub for all packed Belgian chocolate and ornament merchandise, produced in Barry Callebaut's chocolate factories in Wieze and Halle, Belgium.
The Chocolate Box is the results of a a success partnership between Barry Callebaut, the true property developer WDP and town of Lokeren. With a complete funding quantity of €100 million, it's the greatest funding Barry Callebaut has ever made in its operations community. The Chocolate Box will increase the potency of Barry Callebaut's international logistics and can permit the Group to serve shoppers even quicker.
At Lokeren, the warehouse Is preferably situated close to the E17 freeway, facilitating service delivery all through Western Europe and with direct get admission to to the Port of Antwerp for international delivery. Construction started in the summertime of 2019. Less than 24 months later, the development, spanning a complete floor of 12 soccer fields, used to be  finished. In the totally automatic top bay warehouse, 41 metres top, as much as 125 000 pallets will also be saved at a continuing temperature of 18°C. Over 120 workers, of whom 40 are in newly created positions, are securing clean operations.
First development within the Benelux with "BREEAM Outstanding" certification
The Barry Callebaut Chocolate Box could also be one of the most global's essentially the most sustainable chocolate warehouses. The Chocolate Box is the primary development within the Benelux with a "BREEAM Outstanding" certification, the absolute best usual in sustainable logistics. The development is totally energy-positive, as it may possibly utterly satisfy its personal calories intake.
In order to reach this certificates, the latest ways in sustainable development were used: sun panels, air remedy teams, rain water and warmth restoration, humidity keep an eye on, insulation and geothermal calories. The wellbeing of the workers, an very important a part of the "BREEAM Outstanding" certification, is ensured thru get admission to to herbal sunlight all through the development, zones for leisure and garage amenities for e-bikes.
Peter Boone, leader govt of the Barry Callebaut Group, stated: "The Chocolate Box is a milestone for Barry Callebaut. From Lokeren, all packed chocolate products – mainly under its Belgian chocolate brand Callebaut – will be shipped to the rest of the world. The Chocolate Box is an example of how we execute our smart growth strategy, increasing efficiency and serving our customers in a more sustainable way."