Primo Water has selected Nayax because the cashless fee generation spouse for its outside filtered ingesting water or replenish machines.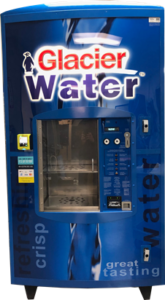 To deliver extra fee choices to shoppers in conjunction with real-time telemetry alerting, Primo Water will likely be putting in Nayax's VPOS Touch gadgets on roughly 17,000 outside replenish machines.
VPOS Touch will permit Primo Water shoppers to choose between all kinds of EMV-certified or chip-card cashless fee strategies, together with bank cards, debit playing cards, and cell fee apps (akin to Apple Pay, VISA, Mastercard and extra). Nayax's control device functions will supply Primo Water the power to remotely track its outside Refill Machines and make sure its machines are in steady operation.
The device will ship adapted notifications in line with Primo Water's outlined thresholds when a Refill Machine stories an influence outage, or when there's a gadget error in line with their specs.
This will permit box managers to ship carrier technicians to the gadget, thus decreasing downtime. Primo Water anticipates that this capacity will cut back misplaced earnings from extended gadget interruption and can build up end-consumer pleasure.
Matt Sheehan, CEO of Primo Water mentioned: "As we have been investing in technology across our refill business, we are excited to enable cashless payment for our consumers along with increased visibility into the operations. We looked across the potential providers and with Nayax we feel we have a partner that can help us grow and use technology to improve our operations. We've also been impressed by the quality and responsiveness of Nayax's support team. We believe that by using Nayax's management solution and extensive alert system, our Refill Machines will enjoy a much higher rate of availability and uptime. In our testing the last few months, we've been pleased with the results from the Nayax payment system."
Carly Furman, Nayax, LLC, CFO/COO mentioned: "We're thrilled to be partnering with Primo Water. With such a large network of installations, we believe Primo Water will benefit from both an increase in sales and decrease in operational costs by implementing Nayax's cashless and telemetry solution on their entire fleet of outdoor Refill Machines. We look forward to working with them to offer any additional custom development that can better help Primo Water monitor their Refill Machines remotely to optimise service and meet their consumers' needs. We are happy to be chosen as Primo Water's long-term cashless technology partner. We are impressed by Primo's speed, attention to detail, and how quickly they are installing the units."