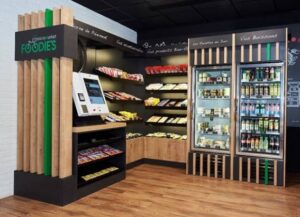 Selecta Group, has put in its 200th micro marketplace in Europe with the latest release at clinical provides producer Renolit, primarily based within the Netherlands.
Selecta's micro markets, branded FOODIE'S in mainland Europe and Express HUB in the United Kingdom and Ireland – be offering a self-service, 'grab-and-go' refreshment resolution for the place of work. Employees can get entry to wholesome, recent lunches, tasty snacks and a variety of beverages on web page 24/7, boosting productiveness and supporting worker engagement and wellbeing.
Selecta's micro markets have proved in particular sexy as places of work throughout Europe have began to re-open and adapt to adjustments in behaviour because the COVID-19 outbreak.
The grab-and-go retail outlets' scalable design approach they provide a handy and cost-effective choice for firms which are opening places of work at a discounted capability and people who are on the lookout for unattended catering choices.
The contactless, self-serve gadget is hygienic, simple to scrub and helps social distancing measures. While in my opinion packaged recent meals, drink and snack choices offers staff peace-of-mind, with no need to compromise on well being.
They are to be had across the clock, serving to to restrict a lunch-time rush. Selecta has additionally offered a variety of measures to additional advertise hygiene and give a boost to social distancing, together with flooring stickers and obstacles to create a one-way float of visitors, and antibacterial stations, and the advent of distance variety era on its espresso machines, making the buying procedure actually contactless.
Jan Marck, managing director, area central, Selecta Group, stated: "We're very proud to achieve this milestone. We've been growing our micro markets proposition for 4 years and are assured that our market-leading product provides the best resolution for places of work that need to be offering their staff wholesome, simple and reasonably priced food and drinks on web page.
"We know that the pandemic is going to significantly change the way we work. Our priority is to support businesses in making the transition to the 'new normal' of COVID-19 as easy as possible."