Since its release in March, the Gosport Paper Cup Recycling Scheme continues to collect impetus and the most recent information is that St Vincent College has joined the scheme including additional containers to these already positioned within the the city.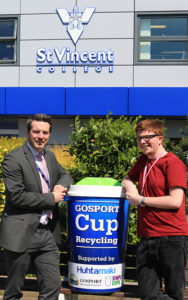 Collaboration between Gosport Borough Council, paper cup producer Huhtamaki and cup recycler Simply Cups resulted within the building of this scheme which can act as a case learn about for identical schemes.
Andy Grant, deputy foremost of St Vincent College (at the left of the image) mentioned: "As a significant provider of education within the Gosport area, it's fundamental for the college to demonstrate to students and the wider community our commitment to the environment.  Joining the scheme illustrates that key stakeholders need to work together to create successful outcomes and it also expresses our aspiration for students to stand up and take action to improve the environment."
With six cup recycling devices already firmly established at Gosport Ferry terminal and at the ferries, out of doors Gosport Borough Council Offices, on the recreational centre and likewise throughout the Bookworm Café within the library, the additional two devices at St Vincent College will upload further impetus to the recycling scheme.  Residents merely want to make certain used cups are emptied sooner than setting apart the lid from the cup and striking each pieces in a devoted cup formed bin.  Used paper cups and lids will probably be recycled into merchandise similar to lawn furnishings, park benches and flower tubs that may be utilized in and round Gosport.