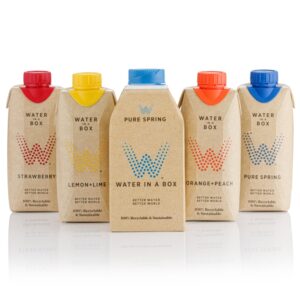 Water in a Box, the sustainable British water emblem that pioneered repackaging water into environmentally pleasant cartons, is relaunching a variety of 100% British-sourced water in a carton bottle combidome.
The Water in a Box vary now features a 500ml undeniable spring in combidome from SIG and 4 330ml Tetra cartons (undeniable spring, lemon & lime, orange & peach and strawberry). The emblem's ethos has at all times been to scale back the usage of PET plastic within the bottled water class by means of repackaging spring water into one thing this is higher for the surroundings.
The new 500ml light-weight combidome carton bottle from SIG combines the most efficient options of a carton and a bottle, with handy dealing with for customers and simple opening and pouring from the only motion domeTwist closure. The light-weight carton is alleged to have a very good environmental footprint, as it's totally recyclable and in large part comprised of FSC-certified paperboard. It could also be light-weight, but tough.
Water in a Box has traditionally sourced the spring water for its 500ml undeniable water from Germany however as a part of its Better Water, Better World sustainability dedication it has moved all its sourcing to the Mendip Hills, Somerset.
Moving to 100% British water considerably reduces Water in a Box's carbon footprint and can lend a hand the industry paintings against its carbon impartial standing.
David Grannell, managing director of Water in a Box stated: "We've at all times stayed with reference to our venture to offer a variety of in reality sustainable boxed water which is renewable, environmentally pleasant and has a decrease carbon footprint than PET.
"We believe this focus on sustainable packaging, 100% British water, and a powerful new brand that emphasises our environmental credentials will help transform the bottled water category for the better."
Russ Lisle, key account supervisor at SIG stated: "The combidome carton bottle stands out in retail and offers consumers the best features of both a carton and a bottle, with an excellent environmental footprint."
Mr Grannell added: "Consumers want an alternative to PET plastic water bottles and they want more sustainable options for on-the-go drinking occasions. There has been a move to repackage water into RPET (recycled PET) but this isn't a sustainable long-term solution as it still requires the manufacture of virgin PET. Water in a Box is truly a better water for a better world."
Water in a Box is to be had in 330ml and 500ml herbal and 330ml lemon & lime, orange & peach and strawberry flavours. Find it in TK Maxx shops and in quite a few cafes, bars, gyms and hair salons by way of numerous UK wholesalers and vendors. It could also be to be had in numerous tournament stadia; Man City/Etihad, Santa Pod and in recreational parks corresponding to Yorkshire Wildlife, The Deep in Hull and Colchester Zoo.