European Coffee, Tea & Soft Drinks Expo, the hospitality business display 100% dedicated to the successful provider and gross sales of espresso, tea and comfortable drinks will host a array of exhibitors, from small consultants tolarge global firms when it takes position from May 21 to 22.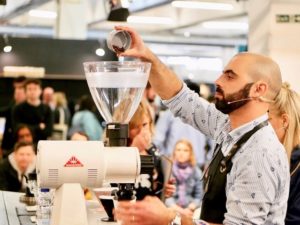 Visitors may have a not-to-be-missed probability to sourceproducts and answers, establish the latestinnovations and spot over 150 exhibitorsand 300+ manufacturers, plus a variety of customer points of interest.
Annie Swift, managing director, European Coffee, Tea & Soft Drinks Expo, says: "This is the perfect opportunity for beverage buyers to reassess their soft beverage offering, and the equipment and extras required to prepare and serve them to meet changing customer expectations and the challenge of declining alcohol consumption.  Thanks to the vast range of exhibitors and inspirational features, they can learn how to profit from the surging interest in wellness, irresistible speciality teas, non-alcoholic alternatives for adults, lower sugar yet tasty drinks for kids, chilled drinks for the hot summer days, non-dairy alternatives, kombucha, cold brews and the next big thing in coffee."
In addition to the various exhibitors guests will probably be handled to points of interest together with the Barista Masterclasses, a brand new, world-first characteristic that demonstrates the abilities of the most productive recognized, championship-winning, and most galvanizing baristas.  Sponsors come with Brita Professional, Lavazza and Victoria Arduino.
Steve Buckmaster, gross sales director for BRITA Professional, says: "We're extremely excited to be involved in the Barista and Roastery Masterclasses at this year's European Coffee, Tea & Soft Drinks Expo, which showcase the very best talent the industry has to offer. The event provides an invaluable opportunity for people to learn from and engage with other experienced professionals, helping them to improve and expand their coffee offering."
Peter Garcia, managing director of Victoria Arduino's unique UK importers VA Machinery, says:
"We couldn't be more thrilled to be involved with the Baristas Masterclasses for European Coffee, Tea & Soft Drinks Expo in 2019. With the show being welcomed back in its second year, we are excited to see how it has grown and evolved, and this feature will be a great addition to an already fabulous line up."
Jacopo Ubaldi, Away From Home advertising supervisor, Lavazza says: "We are delighted to be involved in an initiative that celebrates the talents of the stars of the industry, all at the top of their game.  We thought it was a unique opportunity to support an event that is giving Baristas a platform to express themselves by demonstrating the skill, technique and creative flair that has established them at the top of their profession.  We will also be serving a wide range of coffees from our stand and are excited to be showcasing the breadth of coffee we provide, particularly our Barista quality lines."