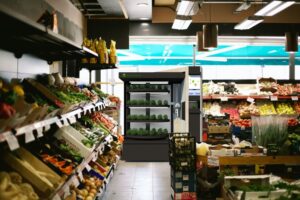 Masters scholars from Wageningen University within the Netherlands are in rivalry to win an innovation contest between the rustic's 4 technical universities with their FarmVent – a vertical farming merchandising gadget.
While vertical farming isn't new, biosystems engineering scholars Nikolaos Alfieris and Orestis Spirou say vertical farming within the grocery store is new.
Their idea: breeding and harvesting reside in retailer in a wise greenhouse is thought of as a sustainable answer. The two-metre-high gadget gives the buyer a collection of 500 dew-fresh herbs, displayed over 4 cabinets of 1 sq. metre each and every. A buyer handiest must push a button to choose and harvest their very own favorite herb at the spot.
The glaring merit is that herbs equivalent to basil, mint, thyme and sage not want to be transported from the nursery to a distribution centre after which directly to the shopper. Moreover, the breeding procedure is phenomenally environment friendly. It calls for 90 consistent with cent much less water, and the safe setting reduces using insecticides and fertilisers through 75 consistent with cent.
'There is also less waste: the customer only harvests if the product is sold. Where herbs quickly perish in the normal vegetable section, in the FarmVent they continue to grow, and therefore remain fresh for much longer', says Nikolaos.
The FarmVent scholars say they realise that brand new herbs won't feed thousands and thousands of folks, alternatively Nikolas says: "It is a step in that direction. We must start somewhere and herbs are the easiest to start with: they are sold as a plant and are nice to look at. This is important, the customer must be willing to buy."
More merchandise will develop within the FarmVent someday, he expects, equivalent to leafy vegetables and strawberries, as an example."
Nikolas provides: "The vending machine is an extra sales outlet for existing breeders. We only provide the technology – cameras and sensors that continuously monitor the greenhouse environment. This data is used to optimise the growth process automatically."
The staff is already discussing with growers and supermarkets. The first shoppers are anticipated to shop for their herbs from a merchandising gadget in 2021. A pilot challenge will get started in The Netherlands.
The 4TU Impact Challenge is an innovation contest of the 4 technical universities within the Netherlands and will likely be hung on 19 November.
Should FarmVent win the 4TU Impact Challenge, they are going to sign up for the Dutch industry challenge on the Dubai World Expo (recently postponed because of the corona pandemic).