Coca-Cola European Partners (CCEP) is increasing its Espresso Monster vary with the release of a brand new flavour – Espresso Salted Caramel, designed to attraction to espresso drinkers and effort drink enthusiasts alike.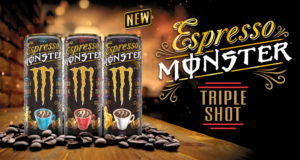 The new Espresso Monster variant is a mixture of actual brewed espresso and the Monster power mix. Available in a top class 'touch ink' black 250ml can, the brand new flavour addition follows on from the a success national release of the Espresso Monster vary previous this 12 months, which is now price £5.5million.
The flavoured chilly espresso drink will supply additional alternative for shops to capitalise at the an increasing number of fashionable ready-to-drink RTD espresso sector, lately price £139million and rising through 32%. The new variant is the 3rd product to sign up for the Monster Espresso vary that comes with Espresso & Milk and Vanilla Espresso.
Simon Harrison, vice chairman, business building at Coca-Cola European Partners GB, mentioned: "The Espresso Monster vary has been neatly gained through customers over the past 12 months and is now price £5.5million. The vary delivers an actual level of distinction, combining the capability of an power drink with chilly espresso, two cushy drink segments which can be turning in robust expansion in GB.
"The salted caramel flavour profile is already popular with consumers in coffee shops and across other food and drink categories. We're therefore confident that the new great tasting variant will help to fuel further growth of the Espresso Monster range, delighting Monster's core fan base whilst also recruiting new drinkers."