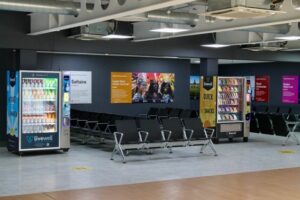 Livewell Vending has partnered with Leeds Bradford Airport to offer passengers with secure and simple get admission to to top of the range refreshments and shuttle necessities.
As lockdown eases and shuttle resumes, passengers are actually returning to airports with new hygiene pointers in position. Many airways have suspended the sale of food and drinks on flights to scale back in-flight touch issues – and no longer all catering choices in terminals have returned.
By putting in 3 trendy, low-touch VendSafe stations on the airport, Livewell has enabled passengers to get the meals, beverages and PPE they want – and all in a COVID-safe means.
The stations supply a snappy and simple means for travellers to shop for what they want prior to boarding. One landside station sells snacks, face coverings and 100ml antibacterial spray, all of which may also be taken via safety. And two airside stations, situated reverse gates 7 and eight within the flooring flooring departure living room, supply a complete vary of food and drink to take at the aircraft.
Products are saved in hygienic, temperature-controlled gadgets in the back of glass displays. Wipe-clean contact displays, computerized doling out mechanisms and contactless bills permit for a very easy number of branded refreshments and PPE shuttle necessities.
Livewell has enabled COVID-safe merchandising with COSSH-approved hand sanitiser dispensers mounted to the entrance of each and every station and flooring signage to assist social distancing.
Managing director of Livewell Vending, Aaron Prout, mentioned: "Leeds Bradford Airport is on our doorstep and we are delighted to have won this contract. The launch had been on hold due to COVID-19, so it is great now to be up and running. With a low touch interface and contactless payments, the vending set-up has proven ideal for cautious passengers, and we are off to a flying start!"
A spokesperson for Leeds Bradford Airport, added: "The resumption of flights is well and truly underway at Leeds Bradford Airport and we're delighted to introduce Livewell contactless vending machines as part of our adjusted operations. Passengers can continue to use the airport safely, with access to refreshments, face coverings and hand gel. We see investments like this as important additions to the airport and thank Livewell for providing a timely solution."