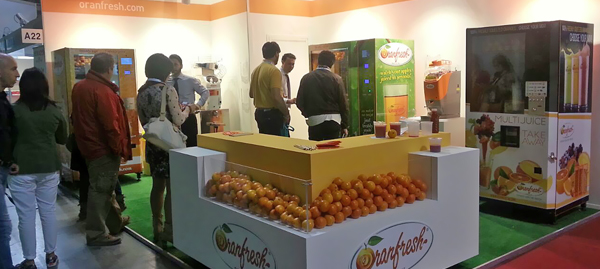 Oranfresh successfully launched its new vending machine models in occasion of the Venditalia 2015 Special Edition – the International Vending Exhibition, point of reference for vending operators – that was held from the 3rd to 6th May , in the pavillon 18 in Rho Fiera Milano. This year the event was included in the Tuttofood – the food processing and hospitality industry Exhibition – and was a big hit with the visitors from everywhere in the world, that the company welcomed in his stand A22.
People from everywhere – Egypt, Japan, Uruguay, China, Argentina, United States of America, Brazil, Israel and EU countries – appreciated last and innovative Oranfresh vending machines dispensing freshly squeezed juices, confirming the undisputed superiority of the company in the Vending sector worldwide.
From the OR 130 Multi Juice, the most creative Oranfresh machine, introduced in the take away version for juices to go, to the new OR Fill-Up, the only vending machine in the world to bottle the squeezed orange juice, not to mention the exclusive combo  OR Orange & Apple making it possible to dispense squeezed orange juice and centrifuged apple juice. There were also two hits of the Oranfresh range of products, the renewed HR Supermarket, a must for the fruits and vegetable stores, suited also for supermarkets, and the Orangenius the elegant, strong, functional and innovative citrus-juicer for hotels, restaurants and cafés.
The company was impressed by the growing number of visitors from Middle-East, a sign of a reality that shows more and more interest in the technological innovation for health food.
L'articolo Oranfresh's great success during the Venditalia sembra essere il primo su Oranfresh.