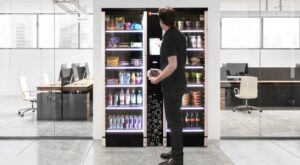 Selecta, Europe's main route-based unattended self-service supplier, has signed a long-standing unique partnership settlement with Instant Systems Sweden to enlarge the Group's Smartfridge be offering throughout its European markets.
Selecta presented the idea that in Sweden in June during the release of 2 new sensible refrigerator answers: Selecta Deli and Selecta Minicooler. Selecta designed the 24/7 self-service answers to offer easy and versatile catering answers for various place of business wishes.
The unattended selection to kiosks and small canteens be offering a variety of clean and handy meals, salads, sandwiches, snacks, espresso and chilled beverages on the place of business. They will also be operated temporarily and simply by way of an app or bank card, and supply places of work with a safe, theft-free and handy catering possibility.
Christian Schmitz, leader govt of Selecta Group, stated: "We understand the importance of providing employees with convenient access to a wide range of food and drink grab-and-go options. We've had a fantastic response to our Smartfridges since we launched the concept earlier this year, and we're delighted to be partnering with Instant Systems to further expand this offering across our European markets."
Kristian Silbvers, leader govt of Instant Systems, stated: "We are thrilled to be working closely with Selecta. No other operator in Europe has the capacity to roll out and operate this new technology to the scale that Selecta can. Together we aim to set a new standard within the market, improving millions of people's day-to-day convenience. This partnership is also strategically important for Instant Systems since the massive growth of transactions ensures that our technology continues to evolve and continues to remain state-of-the-art."