Rugby premiership champions Saracens are adding their considerable weight and sense of fun to Harrogate Water's recycling message.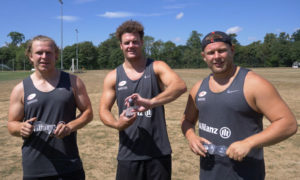 Saracens are staying hydrated in defence of their Premiership title with Harrogate Spring Water – whose PET bottles are made using more than 50 per cent recycled content.
The partnership will include a social media video featuring players playing a game of flipping bottles but with a serious message about recycling.
Harrogate Water marketing manager Erin Boswell said: "We are thrilled to become 'Preferred Water Supplier' to Saracens. Healthy hydration in elite sport is essential for peak performance, something Saracens are renowned for in the Premiership and European Champions Cup.
"Having professional rugby stars joining our online recycling campaign is a real boost for our latest recycling initiative. We are also proud to be using more than 50 per cent recycled content, the highest use of UK post-consumer recycled PET of any water producer.
"We are an active partner of Keep Britain Tidy and together we are behind the Incredible Shrinking Bottle recycling campaign, urging consumers to 'twist it, cap it, recycle it'. The more we can spread the recycling message, the more recycled material will become available, enabling us to increase recycled content even further. It's all about creating a real circular economy."
Saracens partnerships manager Emily Marshall said: "Healthy hydration is an integral part of the health and fitness regime at Saracens and as a club, we are striving to be better at recycling. We are delighted to support Harrogate Water, a great British company with international appeal that is leading the way in recyclability and sustainability."