Systopia, the order and bills answers supplier, helps on-site foodservice firms compete with prime side road meals retailers via launching a variety of self-service kiosks.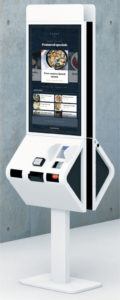 The kiosks, which might build up a shopper's reasonable order price via 20%, reflect the selection, pace and comfort presented via exterior eateries, thereby encouraging workers to make use of on-site amenities and interesting to those that generally take much less time for lunch. The kiosks aren additionally stated to assist organisations force down labour prices and build up income.
Chris Lyons, managing director of Systopia, stated: "The advent of self-service kiosks throughout different sectors has confirmed to be an unheard of good fortune, resulting in a 20% build up in reasonable receipt turnover. We at the moment are bringing our vary of leading edge and customisable self-service kiosks to the foodservice business for the first actual time, in order that they can also be offering precious body of workers enhanced on-site amenities, while taking part in vital income expansion and making really extensive labour value financial savings.