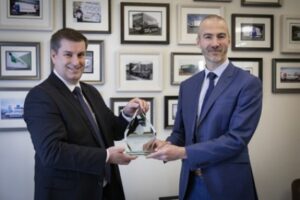 Waterlogic, the clothier, producer, distributor and repair supplier of purified ingesting water dispensers, has offered its Oceansaver Accolade to DPD, the explicit parcel supply carrier.
The accolade recognises organisations that experience made a vital contribution and dedication to the relief of single-use plastics that now not simplest affect local weather trade, but additionally dangerously pollute the arena's oceans.
Since 2020, DPD has supplied its other folks (roughly 22,000) with reusable steel bottles and has put in Waterlogic water stations at its 87 depots, making sure that the bottles will also be simply refilled. DPD estimates this has helped save over 1,000,000 plastic bottles, similar to over 82.8 tonnes of plastic – and, in accordance with its other folks filling up on moderate two times an afternoon, 5 days per week, an estimated 3.75 million plastic bottles of water will now not be wanted. In addition, DPD's Hub merchandising machines, which most often distributed 100,000 plastic bottles of water a yr, now simplest supply cans.
"Our partnership with Waterlogic is an important part of our vision to be the leader in sustainable delivery. At DPD, our aim is to drive and inspire more sustainable behaviour in our employees – behaviours that will hopefully extend outside of the workplace. We believe that becoming more sustainable is the right decision to help protect our planet and the people in it, and we are really proud to be presented with this accolade and to have our efforts to remove single-use plastics recognised," commented Olly Craughan, head of company social accountability at DPD.
Waterlogic's Oceansaver Accolade programme demonstrates how front-and-centre environmental sustainability is in relation to the corporate's operational mindset. The corporate hydrates just about 50 million customers day-to-day and contributes to the relief of 23.8 billion single-use plastic bottles, and was once one of the crucial first to introduce point-of-use (POU) water doling out programs. These attach without delay to present water provides and scale back the will for environmentally unfriendly single-use plastic bottles. Waterlogic is operating with its shoppers and main on new techniques to inspire extra sustainable hydration, together with its Freefill initiative that it has championed along primary organisations like DPD. By putting in bottle filling stations that group of workers and shoppers can use, 1.1 million refills have been recorded in 2020 on my own as communities embraced reusable bottles.
Alistair Dicken, head of company accounts at Waterlogic, commented: "As a long-term hydration solution supply partner to DPD, we have been delighted to support its green journey through the provision of innovative bottle filling stations across its distribution centres. The bespoke branding opportunity we provided for these stations enabled DPD to convey a powerful message to users, aligned to its wider sustainability programme – 'You never need to use plastic again'. We are delighted to recognise DPD's genuine commitment to sustainability with the Waterlogic Oceansaver Accolade."
Waterlogic has already offered accolades to Goldman Sachs UK, Interserve on behalf of E.ON, the Iberostar Group and Ramsey Health Care in Australia, among others, and will proceed to recognise deserving, sustainability-focused shoppers internationally.