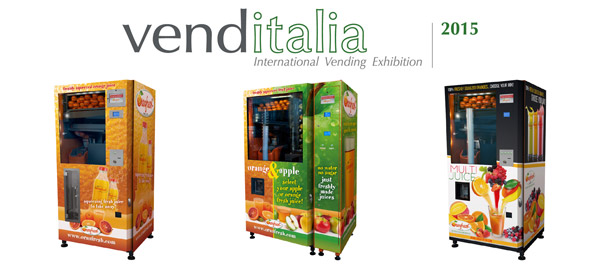 Oranfresh will be present at Venditalia 2015 Special Edition, the international exhibition of the Vending sector which is to take place from the 3rd to 6th May, in the Hall 18 of Rho Fiera Milano, stand A22.
Oranfresh will introduce its new machines: OR 130 Multi Juice, the most creative of Oranfresh's products, a vending machine for many juices to taste, from the citrus to the strawberries, mixed berries, mango and papaya, the juices of fresh fruit can also be mixed, between them or with energy and dietary supplements;  OR Orange & Apple, the only combo in the world able to offer both freshly squeezed orange juice and freshly centrifuged apple juice, double technology and double offer; OR Fill-Up, a vending machine suited for supermarkets, shopping malls, and self-service areas, it makes it possible to dispense refrigerated freshly squeezed orange juice into bottles of different sizes for takeout consumption.
L'articolo Oranfresh at Venditalia 2015, the International Vending Exhibition sembra essere il primo su Oranfresh.