DS Smith has donated €50,000 to UNICEF to offer African youngsters the training they want and be offering monetary reinforce to households.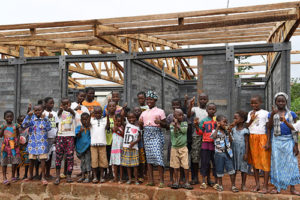 The donation will move in opposition to UNICEF's venture in Ivory Coast during which the surroundings is being relieved of plastic waste after which changed into development bricks for training amenities.
Future potentialities of hundreds of thousands of youngsters in Africa are limited, since they can not attend college. One explanation why for that's that there aren't sufficient school rooms. "Ivory Coast alone lacks several thousand schoolrooms," stresses Wolfgang Schmid, head of the UNICEF Fulda operating workforce. "The kids who go to school often have to learn in entirely overcrowded classrooms, which significantly impairs their education opportunities."
"Yet at the same time, we have millions of tonnes of plastic waste worldwide, both in our oceans and onshore. This affects us all. In a recent survey that we conducted together with L`ObSoCo, 86% of the respondents said that they considered the environmental issues to be the greatest challenge of human society in the next decades," says Anja Röhrle, DS Smith's advertising & communications supervisor Germany/Switzerland.
In Ivory Coast, UNICEF has introduced a venture the place plastic waste is accrued and processed into bricks for brand spanking new training amenities. This has a threefold get advantages: Plastic waste is decreased. Schoolrooms are created, and thus a possibility of training and a greater long term for the youngsters. In addition to this, the proceeds from amassing waste reinforce the residing prerequisites of deficient households.
"We at DS Smith have been actively dealing with the issue of substitutes for plastic for a long time. In hundreds of projects, we could manage to replace plastic with solutions on the basis of corrugated cardboard. Moreover, we focus on sustainability and education projects in our DS Smith Charitable Foundation," emphasises Philip Bautil, managing director at DS Smith. "This project is therefore the right thing for us, and it matters a lot to us. We hope that this pilot project will prove its long-term worth and can be introduced in other countries."
The donation cheque was once passed over to Ritva Mikkonen-Diegelmann and Wolfgang Schmid, each from the UNICEF Fulda operating workforce. "We are so glad that DS Smith supports the global action of UNICEF this time again," says Mr Schmid.
For the 6th time in a row, DS Smith has determined to make a donation as a substitute of sending presents to consumers. Since 2014, the corporate has donated a complete of €300,000 to UNICEF by means of the DS Smith Charitable Foundation with a purpose to lend a hand youngsters in want and to supply them higher long term alternatives. "Special thanks go to our customers, who encouraged us to do without Christmas presents and thus virtually donated as well," emphasises Bautil.
Image proper: © UNICEF/UN