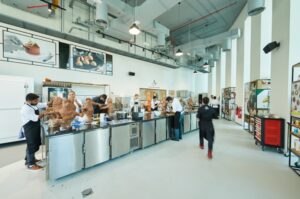 The Barry Callebaut Group, the producer of fine quality chocolate and cocoa merchandise, has relocated its Chocolate Academy Center Dubai, which is now on the foot of the Burj Khalifa, one of the crucial global's maximum iconic landmarks.
This new location and facility function an inventive platform the place cooks and artisans can exhibit and expand their ability and abilities. As Chocolate Academy Center Dubai is a part of the broader Chocolate Academy Center community with 24 academies around the globe, it is going to be the premier platform for bringing famend cooks to Dubai to encourage, educate and advise native artisans.
With a workforce of devoted cooks, Chocolate Academy Center Dubai performs the most important position in inspiring and instructing the chocolate trade and introducing new ways to artisans, pastry cooks, confectioners, bakers and caterers. The Chocolate Academy Center Dubai additionally performs the most important position in riding innovation as intake patterns shift in opposition to premiumisation and new ideas in relation to design, color and flavours.
Amine Mebrouki, common supervisor Middle East & North Africa, mentioned: "The chocolate marketplace is improving within the Middle East area. The Chocolate Academy Center Dubai helps native companies to find the appropriate chocolate answers to assist them win available in the market.
From empowering girls and younger abilities, to supporting new ideas: The Chocolate Academy Center Dubai is where to be within the Middle East area for the whole thing associated with chocolate."
Rogier van Sligter, president EMEA (Europe, Middle East, Africa), added: "This is an important moment for Barry Callebaut's presence in the Middle East region. The relocated Chocolate Academy Center Dubai will strengthen the collaboration with our customers in the growing Middle East region, helping them to develop their own profile in terms of taste and flavour. Initiatives like this help to grow the Gourmet business in the Eastern part of our EMEA Region."