Eat Real gross sales supervisor and blood donor extraordinaire Simon Roberts is celebrating a outstanding success in that he just lately donated his 100thpint – a feat which places him within the best 6% of UK donors.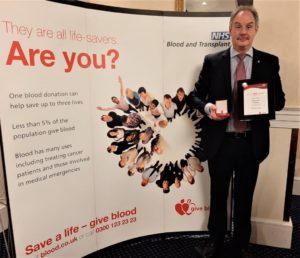 Simon's blood sort – O-negative – is often referred to as the 'universal donor' this means that it may be given to somebody in an emergency and is due to this fact all the time in nice call for. Having now given blood for greater than 40 years, Simon's generosity has been recognised at a distinct NHS Blood and Transplant Donor Recognition rite in London – and he's now on a challenge to influence extra of his colleagues to donate!
"My father was a blood donor and I used to go along with him to the sessions – that's when I got interested and decided to become a donor myself," explains Simon. "Never did I think that I'd notch up 100 pints, but I'm just glad that I've been able to help people who've needed blood in an emergency."
Simon's employer, the snacks producer Eat Real, has all the time supported his determination to donating blood and is now actively encouraging extra of his workmates to become involved. The newest NHS Blood and Transplant marketing campaign specializes in the will for extra male blood donors to enroll.
Mike Stredder, head of donor recruitment at NHS Blood and Transplant, stated:  "Without the generosity of Simon and others like him, many sufferers merely would now not be alive lately.
"His feat is even more impressive as Simon's blood type is O-negative – our universal lifesaving blood that can be given to anyone in an emergency.  To reach 100 donations of this precious blood type is a huge achievement and on behalf of everyone at NHS Blood and Transplant, I want to thank Simon."
Priyesh Patel, managing director at Eat Real, additionally congratulated Simon and stated: "We are all extremely proud of Simon for reaching this amazing milestone.  It's not always easy to find the time in our busy lives to help others, but the fact that he's done it not once or twice, but 100 times, is remarkable."