Abbeychart staff, consumers and providers joined forces for the Anthony Bennett Memorial charity golfing day which used to be held on the Great Lever and Farnworth Golf Club, Bolton.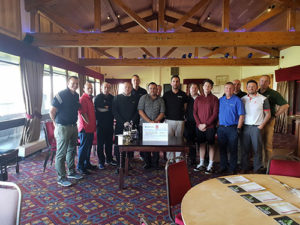 Former worker Tony used to be a valued and common member of the warehouse workforce in Bolton for 13 years, till his premature demise from a middle assault in 2017.
"We have been very unhappy to lose one of these larger-than-life personality so all at once. He can be so proud and really shocked that this particular tournament bears his identify, mentioned Mark Taylor, managing director, Abbeychart.
"Many people who couldn't attend on the day very kindly made donations for which we are very grateful.   A special mention is also due to Ethan Blackwood and everyone at Advanced Engineering, Basingstoke for their very generous prize donations."
"Tony Stuart, group operations manager, Hawco and the team at Bolton did an excellent job of organising the day which ran like clockwork so all credit to them too."
The day raised £650 for the British Heart Foundation and proved to be an excessively becoming tribute to a much-loved former colleague.  Such used to be the luck of the day prior to this's fund raiser there are plans to make the golfing day an annual tournament.  Look out for additional main points on-line at www.abbeychart.co.uk sooner or later.
Winner (1st position) – Thain Gummer (LG)
Winning workforce – Thain Gummer (LG) and Lee Waring (Hawco Bolton)
Longest force – Mark Berry (Abbeychart)
Nearest the pin – Mark Berry (Abbeychart)
To make a donation consult with https://www.justgiving.com/fundraising/hawcogolf2018