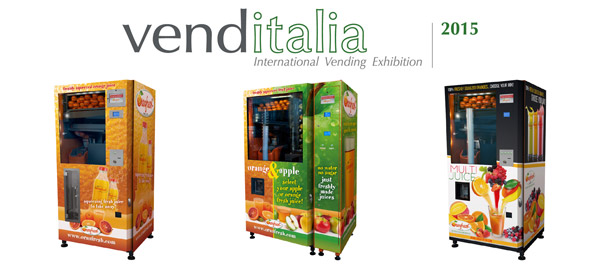 Oranfresh sarà presente a Venditalia 2015 Special Edition, l'Esposizione Internazionale della Distribuzione Automatica, in programma dal 3 al 6 maggio presso il padiglione 18 di Rho Fiera Milano e quest'anno inserita all'interno di Tuttofood, il Salone Internazionale della Filiera Agroalimentare.
Oranfresh presenterà le sue nuove macchine, che elevano l'offerta di spremute fresche di frutta a una scelta senza eguali, presso lo stand A22. OR 130 Multi Juice è il "creativo" della gamma: un distributore automatico, tante spremute da gustare; dagli agrumi alle fragole, ai frutti di bosco, al mango, i succhi sono anche miscelabili, fra loro e con integratori energetici o dietetici. OR Orange & Apple è il combo che offre sia succo d'arancia appena spremuto sia succo di mela centrifugata all'istante: doppia tecnologia, doppia offerta. Il distributore semiautomatico OR Fill-Up – in step with supermercati, centri commerciali e aree self-service – eroga succo fresco d'arancia in bottiglie di vario formato, in step with il consumo d'asporto.
L'articolo Oranfresh a Venditalia 2015 International Vending Exhibition sembra essere il primo su Oranfresh.