RPC Tedeco-Gizeh, the United Kingdom producer of plastic merchandising cups, is launching an initiative to lend a hand consumers recycle their used cups into precious 2nd existence merchandise.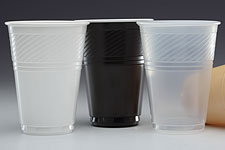 The corporate is operating with its sister trade from the RPC Group, RPC bpi recycled merchandise, in order that merchandising providers and operators who gather their very own used cups can ship them to the RPC bpi facility in Dumfries. There they'll be reprocessed and combined with different recycled polymers to be used within the manufacture of RPC bpi's market-leading Plaswood. This is a high-performance lumber produced from 100% recycled plastic that reportedly does no longer rot, splinter, crack or degrade with age and calls for no upkeep. Products manufactured in Plaswood come with fences, posts and out of doors furnishings.
Scotland's merchandising device provider Excel Vending is the primary corporate to use this provider, accumulating cups from its buyer base throughout Scotland.
"This is a great initiative," feedback Excel Vending's managing director Jane McDonald. "The cups are a valuable resource that can be put to good use rather than going to landfill and will help to support our environmental and CSR strategy."
Nigel Cannon, RPC Tedeco-Gizeh's UK gross sales supervisor says the brand new initiative supplies a closed-loop provide alternative for merchandising companies.
"As a UK producer, our cups already offer important benefits in terms of a lower carbon footprint from more efficient logistics and deliveries," he explains.  "They can now have a significant end-of-life use that keeps them out of the waste stream."