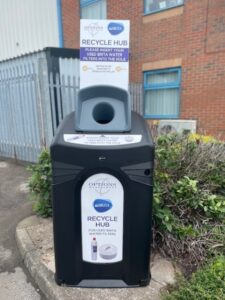 North Staffordshire-based Options Management is taking part with BRITA in a water filter out recycling partnership.
Options has lengthy been at the leading edge of greening up the United Kingdom's merchandising scene. Back in 1999 it stepped up its dedication to greening up the business, by means of putting in recycling features when the corporate made the transfer to new headquarters in Newcastle beneath Lyme.
Options was once some of the first firms within the nation to introduce opposite merchandising and evolved smaller-scale a recycling the place customers get rewards for recycling their returned empty vended cups and cans. The corporate processes its vended cans, bottles, plastic and paper cups into 100% recycled merchandise. With the closed-loop recycling thought, all processing is completed in the United Kingdom, minimising the carbon footprint for patrons and merchandise.
Now, 20 years of sustainability on, Options Management has additional prolonged its recycling features, past cups, bottles and cans and into the depths of the espresso gadget itself. It has turn out to be the primary UK BRITA filter out recycling hub and is now accepting skilled BRITA water filters recurrently utilized in merchandising machines.
Until now, such filters had been destined for landfill, however Options Management is raring to step in and put a forestall to that, with the total backing of BRITA in the back of them. BRITA's filters had been recyclable for a few years, however native customers had been resistant to go back them, and feature merely thrown them away.
Options managing director, Paul Ure stated: "It's great to be able to encourage customers of BRITA water filters to simply drop the used filters in to our offices in Newcastle-Under-Lyme. We'll recycle them, and as a thank you for using the scheme, we are donating 20p per recycled filter to local hospice the Dougie Mac. We'd urge all local users to do the right thing, let us reprocess the filters and reduce waste to landfill."
Interested events can use the to hand "open all hours" drop off bin, positioned simply out of doors the primary gates to Options Management headquarters, at Silverdale Business Park in Newcastle Under Lyme, Staffordshire.