Crisp logo Walkers is celebrating its 70th anniversary with a multi-channel marketing campaign and restricted version flavour release to thank the British public for his or her endured enhance.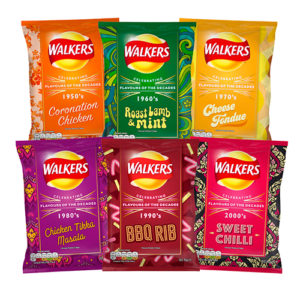 The logo has introduced six restricted version flavours impressed through the country's favorite tastes over the many years: Coronation Chicken (Nineteen Fifties), Roast Lamb & Mint (Nineteen Sixties), Cheese Fondue (Nineteen Seventies), Chicken Tikka Masala (Eighties), BBQ Rib (Nineties) and Sweet Chili (2000s). The marketing campaign rolled out from the 18th March with the release of the six antique flavours aiming to power incremental gross sales and evoke a way of a laugh among Walkers' enthusiasts, bringing the flavours of the many years to lifestyles.
The core Walkers vary will see a brand new design that carries the message "Celebrating 70 years of the nation's favourite".