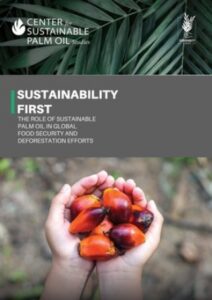 A landmark document on The Role of Sustainable Palm Oil in Global Food Security and Deforestation Efforts has been revealed through The Centre for Sustainable Palm Oil Studies (CSPO) for Earth Day this week.
The document additionally heralds the release of the "Sustainability First" marketing campaign, an effort through CSPO to boost consciousness of the important position sustainably sourced palm oil performs in supporting deforestation efforts globally – and making sure the ones arguments succeed in shopper audiences international.
Notably, the document reviews the EU's present black-and-white way against palm oil, mentioning: "in the rush to tackle deforestation, the European Union banned importation of palm oil for biofuels, while placing no such restriction on other forest risk commodities such as beef, widely associated with deforestation."
The document states that satirically, the sort of ban would build up deforestation as a result of "demand would switch to less efficient alternatives," like rapeseed, soy or sunflower, which require as much as 9 instances extra land than palm fruit to supply the similar quantity of oil.
Worse – those choices require "more fertilizer and pesticides and have lower productivity and shorter lifespan compared to oil palm."
The document, alternatively, additionally recognizes a sluggish shift in EU coverage, "yet it remains critical for the Union to learn from the failure of the palm oil ban" and safe a business maintain manufacturer international locations like Malaysia, which as "the world's second largest palm oil producer, has experienced year-on-year decreases in deforestation, attributable to the successful adoption of a nationally mandated sustainability scheme, Malaysian Sustainable Palm Oil (MSPO)."
After complete research, the document concludes through calling for more potent collaboration between regional blocs, mentioning the EU will have to "become familiarised with MSPO, and see the benefit of the EU, Malaysia, and civil society working collaboratively." By encouraging and supporting creating international locations like Malaysia to proceed to fortify the cultivation and manufacturing of sustainable palm oil, the EU can meet targets that emphasize certain environmental goals, like development clear provide chains, slowing deforestation, and preventing local weather exchange.
The document is supported through the CSPO's Sustainability First marketing campaign, which targets to bridge the tips hole on palm oil that exists between the coverage and shopper worlds. Sustainability First recognizes that shopper behaviour is continuously the motive force at the back of policymaking selections – and that neither target audience can also be engaged in isolation.